• go blue • go green • Michigan • Michigan State • spartans • wolverines
"This is not hype."It's game week. pic.twitter.com/Csswj9Hk8a— Michigan State Athletics (@MSU_Athletics) October 25, 2021     Not only will Saturday's matchup between State & UM be the biggest game we've seen all season, you could make the case it will be the biggest game anybody currently living has seen, in any sport. And that isn't hyperbole, that's a fact (also known as my opinion). Michigan sitting at 6 and the Dawgs at 8, it's the first top 10 matchup since 1964, which seems fucking impossible considering the last like 15 years of these programs, but I guess Michigan hasn't been...
---
• basketball • college • Duke • go green • michigan state • MSU • spartans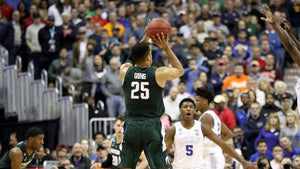 If you aren't up for Duke MSU tonight then you should give your beating heart to someone who would be.