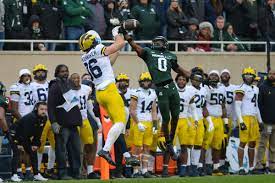 A lot is being made over the football game played in East Lansing, Michigan this weekend. Depending who you ask some might tell you that Michigan State made plays when it matters and had the best running back in the nation power them for 60 minutes. Others would say that referees had an agenda and were not interested in seeing the Wolverines victorious this Saturday. They also might tell you that Jim Harbaugh and Michigan have the better team anyway. Yes, that is Jim Harbaugh. They would actually tell you that he is still the superior coach and they are...
---
• detroit • killian hayes • nba • pistons
By my own admission I've never been a huge Pistons guy. When it comes to the NBA I'm gonna pull for the Detroit squad no doubt, but factoring in the fact that they haven't been 1% interesting since like 2009, they've made it difficult to care. That said; for the first time really since I can remember the Pistons are... slightly cool? Might be giving them too much credit but there's a little buzz about them and their young core coming into this season, especially after the acquisition of one of the best basketball players to ever do it, Cade...
---
• go blue • go green • Michigan • Michigan State • spartans • wolverines
"This is not hype."It's game week. pic.twitter.com/Csswj9Hk8a— Michigan State Athletics (@MSU_Athletics) October 25, 2021     Not only will Saturday's matchup between State & UM be the biggest game we've seen all season, you could make the case it will be the biggest game anybody currently living has seen, in any sport. And that isn't hyperbole, that's a fact (also known as my opinion). Michigan sitting at 6 and the Dawgs at 8, it's the first top 10 matchup since 1964, which seems fucking impossible considering the last like 15 years of these programs, but I guess Michigan hasn't been...
---
• cade • nba • philly • simmons • sixers
Philly, I feel you. Being bad stinks. Being bad is worse when your crowned jewel turns into a raging doucher.  Sixers coach Doc Rivers threw Ben Simmons out of practice today and the suspension came shortly thereafter, sources tell ESPN. — Adrian Wojnarowski (@wojespn) October 19, 2021   Man, I feel bad for Philadelphia fans. Imagine branding and rationalizing your entire rebuild as "The Process" imagine putting all your faith into being complete fucking dog water for 5 years, because "The Process" of being ass will pay off and in turn, make you good. Imagine diving headfirst into the process...
---
• detroit • hockey • raymond • red wings • wings
Today is the day. Today is the day that our Swedish Superstar nets his first career NHL goal. Today is the day, that Lucas Raymond announces himself to the hockey world. I gotta be honest, I'm not sure if this is just pathetic or if it means I'm as die hard as it gets, but seeing Raymond get his first is going to be on par with kissing the first girl I kissed. Butterflies, happiness, achievement, patience paying off… really the Mount Olympus of feelings. Imagine kissing a girl WHILE Raymond scores his first? I'd have to figure out a...