• detroit red wings • hocketown • hockey • lgrw • nhl • red wings • wings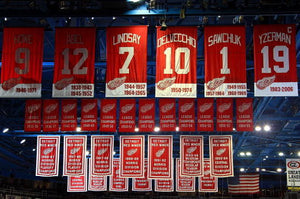 This is the year, this is it. The Detroit Red Wings of old, the ones we grew up with knowing nothing but domincance, skill, class, and being of elite standing in one of the most presitigious professional sports leagues on the planet, those Detroit Red Wings start again, today. The days of losing and gaming for draft position, the days of LCA being this cool, new building that doesn't really get too full or get too loud, and hasn't really seen anything resembling tradition or history made inside of it... that shit is over too. And last but not least,...
---
• avalanche • colorado • Detroit Red Wings • red wings • sakic • wings • yzerman
Sakic and Yzerman are ranked the NHL's #1 and #2 GM's and now I can't stop thinking about a new age Red Wings-Avalanche rivalry.